Professional Pest Control For Woodland, California Property Owners
Known as the "City of Trees," Woodland is a growing city located about 15 miles northwest of Sacramento, CA. There are beautiful, historic buildings downtown, tree-lined streets, and a strong sense of community throughout the neighborhood. However, pests are also eager to be a part of our community, and that can cause some real problems for local property owners. All Woodland homes and businesses are susceptible to pest infestations, and that's a nightmare that we should all avoid. The best way to do that is to call the pest professionals for help.
ProServ Pest Management is a family-owned and operated company that's provided complete residential and commercial pest solutions since 2014. We service properties throughout Yolo County and the surrounding areas, bringing our valued customers the best treatments, products, and prices around. Overall, our goal is to provide you with The Best For Less! Our pest-free guarantee assures you your home or business has full protection against infestations. Contact us today to learn more.
Residential Pest Control In Woodland, CA
Your Woodland home is an ideal location for pests to settle down and spread their populations. That means that you and your loved ones are exposed to the threats of pest infestations. The most effective method of protection is ongoing services from the pest professionals.
Our team starts with an extensive inspection of your property. We look at property size and entry points around the perimeter. We inspect kitchens, bathrooms, bedrooms, and conducive conditions.
Our services are customized to meet your needs, no matter what. We've serviced over 800 local homeowners, leaving them with pest-free results that they can feel good about. From complete foundation perimeter treatments to de-webbing and installing snap traps, we bring you the most effective methods to solve your pest problem. Reach out to us to discuss your residential pest control needs.
Woodland's Best Bed Bug Control Methods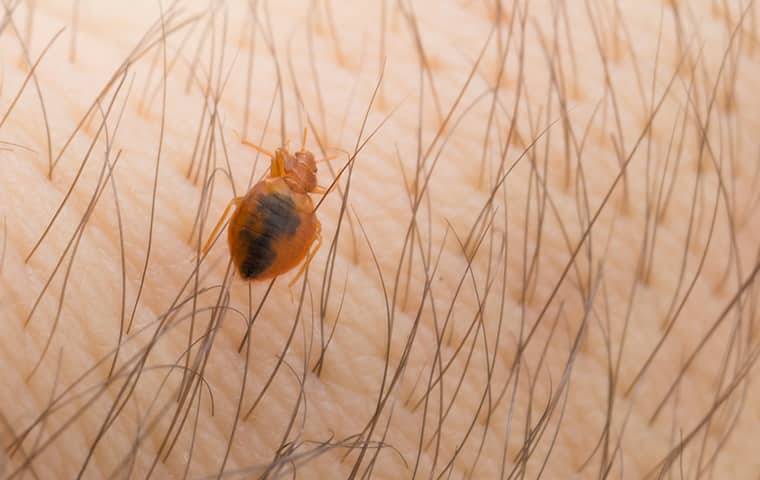 Bed bugs are nocturnal pests that feed on human blood. Bed bug infestations can quickly spiral out of control and become a large scale problem. If you want to reduce your chances of experiencing a bed bug infestation, here are some way in which you can be proactive:
Put a protective cover around your mattress and box springs.
Reduce clutter around the bed, couch, dresser, and potential harborage spots.
Seal cracks and crevices on or near baseboards, wall voids, and even light sockets.
Steam treat your upholstery, rugs, and curtains to kill off any bed bug activity.
Thoroughly inspect all items before bringing them inside, such as cardboard boxes, clothing, luggage, etc.
Vacuum and sweep frequently to maintain cleanliness.
Wash all of your linens, bedding, and clothing in hot water and dry them on high heat.
If you suspect any bed bug activity in your Woodland home or business, the smartest thing to do is call in the professionals. ProServ Pest Management has extensive knowledge and experience in the complete detection and extermination of bed bug activity. Get in touch with us to learn more, and we'll get the ball rolling right away.
Can Carpenter Ants Be A Threat To My Woodland Home?
Carpenter ants are dangerous intruders that can cause serious property damage. As they chew through moisture-damaged wood to make their nests, they spread out, creating satellite colonies that lead to a full-blown infestation.
To give you an idea of the dangers they cause, here are some of the main consequences of carpenter ant activity:
Damage to fence posts
Destruction of decks and patios
Nesting inside of and destruction of wood
Production of frass and excrement
Structural damage
Warped structure
Weakened structural timbers
In order to effectively protect your home from carpenter ants, we suggest reaching out to the professionals at ProServ Pest Management. Our team diligently identifies and eliminates these wood-nesting ants, and we work hard to keep them off your property throughout the year. Reach out today to learn more.
Commercial Pest Control In Woodland, CA
It's not easy to run a business, but things become a lot more difficult when pests enter the picture. Our commercial pest control services give local business owners continued protection from the detriments of infestations. We've serviced over 200 local businesses, working with a broad range of facilities, some of which include storage units, restaurants, bars, apartment complexes, warehouses, office buildings, and hotels.
We start with a thorough inspection of the exterior and interior. We look for conducive conditions and entry points and inspect kitchen areas, bedrooms (if applicable), and other typical pest-hiding sites.
After our extensive inspection is complete, we consult with the customer to discuss our findings and our suggested treatment approach. Next, we customize a tailor-made treatment strategy to meet your facility's needs and the business itself. Get in touch with us today to speak to one of our pest experts about your commercial pest control needs. We're here to help!