Professional Pest Control For West Sacramento, California Property Owners
Situated on the Sacramento River's west bank, the city of West Sacramento offers residents a vibrant, suburban feel with a pleasant climate throughout the year. Living here is a real pleasure, and local pest populations couldn't agree more. Unfortunately, pest infestations are a year-round threat for West Sacramento property owners, and it's important to protect yourself.
Here at ProServ Pest Management, we provide complete pest solutions to properties throughout Yolo County and the surrounding areas. Since 2014, our family owned and operated company has been offering year-round pest coverage that home and business owners can rely on. We're proud to provide our customers with the absolute best services, treatments, products, and prices. Providing you with value is our number one goal, so reach out today to get started.
Residential Pest Control In West Sacramento, CA
Our residential pest control solutions give West Sacramento ongoing protection from household infestations. Starting with a thorough inspection, we evaluate the property size and entry points. We also pay attention to common problem areas like kitchens, bathrooms, and bedrooms. We offer two service plans:
Spray Online Service
Foundation treatment two feet up
Interior treatment
Complete treatment of property
Premium Service
De-webbing & de-nesting
Rodent snap traps
Foundation treatment two feet up
Interior treatment
Complete treatment of property
Our team will bring you lasting results that you and your loved ones can feel good about from start to finish. We've serviced over 800 local homes, and we're here to serve you. Reach out today for your free estimate and inspection.
Rodent Control: Five Tricks For West Sacramento Homeowners
Rodents can be a real problem here in West Sacramento. Some of the most common species in our area include house mice, field mice, roof rats, and Norway rats. There are a number of conditions around the home that are conducive to rodent activity, and it's important to take preventative measures.
Here are five tricks to control rodents in and around your house:
Regularly dispose of the garbage and keep it in a sealed bin outside.
Seal up entry points around the property like small holes that rodents can squeeze through.
Put weatherstripping around the foundation and doors of your home.
Keep shrubs, bushes, and branches trimmed to prevent contact with the roof and gutter.
Store food properly in sealed, gnaw-proof containers, and promptly clean up any messes.
If you want guaranteed, year-round protection from rodent infestations, it's best to rely on a team of qualified pest professionals. Reach out to the team at ProServ Pest Management at the first sign of rodent activity. We're here to help.
The Secret To Keeping Ticks & Fleas Off Your Dog In West Sacramento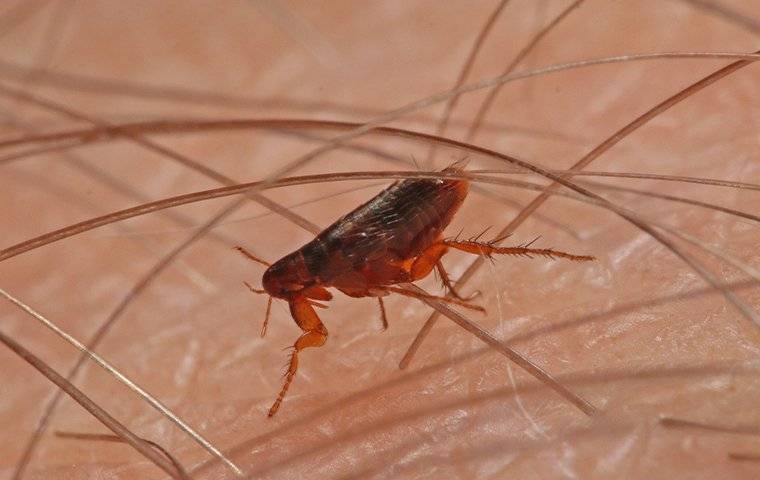 Unfortunately, everyone on your West Sacramento property is vulnerable to the consequences of flea and tick infestations. Both of these parasitic pests can transmit a variety of diseases through their bites. From tapeworm from a flea to Lyme disease from a tick, it's important to be careful.
In order to minimize your exposure to ticks and fleas, here are two preventative measures you can take:
Use tick and flea repellents on the exterior of your home and treat your clothing with or buy clothing pre-treated with permethrin.
Check everyone (including pets) for any ticks or fleas after being outside, and be sure to shower yourself and your pets after spending time outdoors.
If you suspect any flea or tick activity on your property, we highly recommend ongoing services from the pest professionals. The team at ProServ Pest Management will assess the situation and come up with the appropriate treatment plan to fit your needs. Call us today to set up your free inspection.
Commercial Pest Control In West Sacramento, CA
The best way to protect your West Sacramento business from the dangers of an infestation is to get in touch with ProServ Pest Management. Our commercial pest control solutions have protected over 200 local businesses from pest infestations. We offer business owners year-round coverage from a variety of common area pests, some of which include ants, bed bugs, cockroaches, stinging insects, ticks, fleas, beetles, spiders, rodents, pantry and fabric pests, and occasional invaders.
We start with a thorough inspection, detecting exterior and interior problems, as well as conducive conditions and entry points. We inspect the kitchen area and bedrooms and consult with the customers on our findings and suggestions. Whatever kind of pest issues you're facing, we're here to face it with you. Our team is constantly growing, learning, training, and progressing with the industry.
From the first time you call us, throughout every follow-up visit from our expert pest technicians, we prioritize your satisfaction along the way. Get in touch to speak to one of our pest experts about your commercial pest control needs and what we can do to help.