Professional Pest Control For Carmichael, CA Properties
Carmichael is a growing suburb located in the Greater Sacramento metropolitan area. Though many residents enjoy our warm, year-round temperatures, it's important to remember that our hot, humid climate also provides the perfect conditions for many pests to thrive. Protect your Carmichael home or business from the many pests that also live in our area by putting into place an ongoing pest control plan from ProServ Pest Management. Our licensed technicians work hard to provide the most effective service possible. No matter what type of pest problem you're facing, ProServ Pest Management can help. Give us a call today to learn more about all of our commercial and residential pest control options.
Home Pest Control In Carmichael, CA
Your home is your safe haven, somewhere you can spend quality time with your family and relax after a long day. But when pests take over your Carmichael home, they make it impossible to relax. Pests damage property, destroy personal belongings and spread harmful diseases that can make you and your family sick. Protect your Carmichael home and family from pests of all shapes and sizes by partnering with the skilled technicians here at ProServ Pest Management. We are committed to delivering excellent services at affordable prices. Whether you're looking for general pest control solutions or treatments for a specific pest threat, we have you covered. Give your Carmichael home the protection it needs when you turn to ProServ Pest Management. Get in touch with us today for more details about the residential pest control services we have to offer.
Carmichael's Easy-To-Use Guide To Rodent Control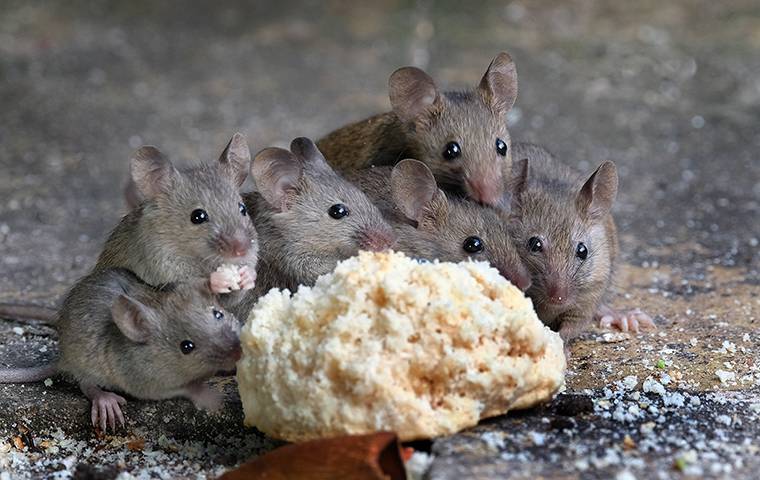 Rodents are common household pests easily recognized by their long front teeth that never stop growing. Rats, mice, and squirrels are a few of the rodents known for causing problems around Carmichael properties. To avoid dealing with rodents in or around your Carmichael home, keep the following rodent prevention tips in mind.
Trim overhanging tree branches away from your exterior walls and roofline,
Pick up uneaten pet food and store dry pet food in airtight containers.
Keep your home and lawn clutter-free to minimize areas where rodents can hide.
Clean your kitchen and eating areas regularly.
Take out the trash regularly and equip your trash cans with tight-fitting lids.
Prevention tips are a great start, but the most effective way to control and prevent rodent infestations is with professional rodent control services from ProServ Pest Management. We'll work with you to eliminate current pest infestations from your property and prevent new ones from occurring in the future.
How Dangerous Are The Stinging Insects In Carmichael?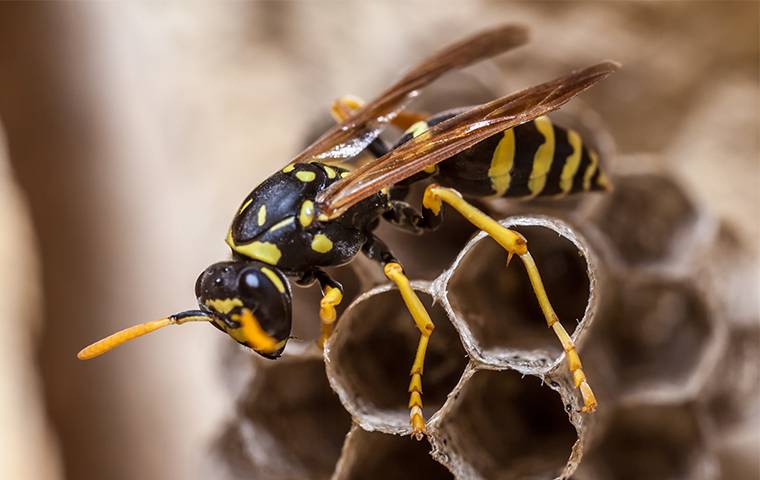 Stinging insects are pests that many people fear. These common insects are equipped with sharp, venomous stingers at the end of their abdomens, hence their name. There are many different types of stinging insects found here in Carmichael, including hornets, bees, and wasps.
They typically live outdoors, but often build their nests inside sheds, attics, and other structures that provide shelter. Stinging insects are beneficial to the environment by pollinating plants and keeping nuisance insect populations under control. However, they are also dangerous pests that cause serious problems when they build their nests on your Carmichael property. Many species of stinging insects become aggressive when their nests are threatened and will attack in large numbers. Some people are also allergic to stinging insect venom, meaning even a single sting could lead to a visit to the emergency room.
The most effective way to keep your Carmichael property free of stinging insects and other pests is with professional pest control services from ProServ Pest Management. We work quickly to eliminate destructive and dangerous pests so that you can focus on more important things. For more details about how we handle stinging insect infestations, turn to ProServ Pest Management today.
Commercial Pest Control In Carmichael, CA
When you run a business, it only takes a small problem to get in the way of your success. And a pest infestation is one problem that can drive away your customers, distract your employees, and even have your business shut down for good. That's why you need an ongoing commercial pest control plan from ProServ Pest Management. At ProServ Pest Management, we understand that there's no such thing as a "one size fits all" approach to pest control. We take the time to listen, observe, and understand the unique needs of your Carmichael business. Our commercial pest control plans are tailored to meet your specific pest management needs. With our professionals on the job, you can rest assured that your business will remain pest-free throughout the entire year. Don't wait for pests to invade your commercial facility and put your reputation on the line. Instead, work with ProServ Pest Management to put into place a comprehensive commercial pest control plan you can trust.
All The Different Ways You Can Pick Up Bed Bugs In Carmichael
As parasites, bed bugs are very easy pests to pick up around Carmichael. They travel via hitchhiking, so bed bugs can attach to any host and go for a free ride. Some of the most common places where you can encounter bed bugs in the area include:
Schools
Grocery stores
Warehouses
Public transportation
Movie theaters
Restaurants
Used furniture and mattresses
It's also possible for you to develop bed bug infestation if you have neighbors with infestations. They can maneuver through shared walls or simply spread from the cracks in a property and move on until they find another food source. Because picking up bed bugs is seemingly effortless, there is no replacement for professional services to protect you.
At ProServ Pest Management, we identify the entire scope of your infestation. Our process begins with a complete home inspection to locate the source and extent of the outbreak. In order to treat it completely, we use chemical treatments on baseboards, carpets, and furniture. We return two more times on a weekly basis to ensure total elimination. These services come with a 60-day guarantee, so if any bed bugs appear within 60 days of your last service, we'll re-treat it at no additional cost. For more information on bed bug control in Carmichael, call us today.
Why Can't I Get These Cockroaches Out Of My Carmichael Home?
If you've developed a cockroach problem in your Carmichael home, you might be wondering why they're so difficult to eliminate, and you're not alone. Some of the reasons why cockroaches are so hard to get rid of include:
Infestation size: The average female cockroach has the ability to lay one egg sac a month for 10 months and each sac can contain up to 15 eggs. This would constitute a heavy infestation while there are smaller infestations that still have a minimum of 10 roaches.
Location of outbreaks: Cockroaches never stray too far from their food or water sources, which means that they usually live beneath sinks, in drainage areas, or around cupboards. These locations can also be hard for people to reach.
Other characteristics: Cockroaches are also nocturnal pests, so it's very likely that you'll have an infestation that you never see in its entirety. Additionally, cockroaches have hard exteriors, so if you're lucky enough to spot one, you probably can't crush it.
Growing immunity: The German cockroach, which is the most common species of roach, has a developing cross-resistance to many common treatments.
Rather than allow cockroach infestations to grow, let ProServ Pest Management help. For more information on our cockroach elimination services in Carmichael, please call us today.
Benefits Of Professional Ant Treatment For Carmichael Homes
Ants in Carmichael are one of the most common nuisance pests in the area, so it's no surprise when homeowners begin to notice them either inside or outside of their properties. But it's not only their prevalence that makes professional treatments so important. Working with a professional means that homeowners are able to live their lives without the tight restrictions that DIY methods require.
Of course, it's important to still practice good hygiene and address situations like leaks, but professional services provide the care that these adaptations can't guarantee. Something simple like forgetting to take out the trash or not rinsing out cans before disposing of them can easily lure ants to a home. Having cracks in foundations or structural flaws is what allows ants to actually get inside. Professional services create a reliable barrier from outside ants and draw out any active ant problems that have developed.
Another benefit of professional ant control is protection from pests that eat ants, like black widow spiders and cockroaches. These are very dangerous pests that have the ability to spread serious health risks, so avoiding them is imperative. Professional services also allow homeowners to stay ahead of potential ant problems rather than waiting for them to appear. For more information on ant prevention, call ProServ Pest Management today.
Why Fleas Are Still Biting In Carmichael
Flea problems develop all around Carmichael properties for a few select reasons, which center around the prevalence of wildlife as well as household pets. These parasites look for blood meals, which they need in order to sustain themselves. Their ideal hosts are animals like cats and dogs, but they'll also be satisfied with squirrels, mice, skunks, raccoons, birds, and other wildlife. These hosts also help continue the cycle of flea outbreaks because they essentially have free range of properties, which allows them to spread fleas wherever they go.
Fleas also thrive in conditions that supply moisture and ample places to hide, and local properties usually provide these qualities unbeknownst to homeowners. Lastly, fleas can continue biting, because when infestations occur inside homes they are usually very difficult to cut off. They are hard to see with the naked eye and hide their eggs in places that people can't identify. At ProServ Pest Management, we customize flea control treatments to our customers' specific needs and we guarantee the results. For more information on these services, please call us today.